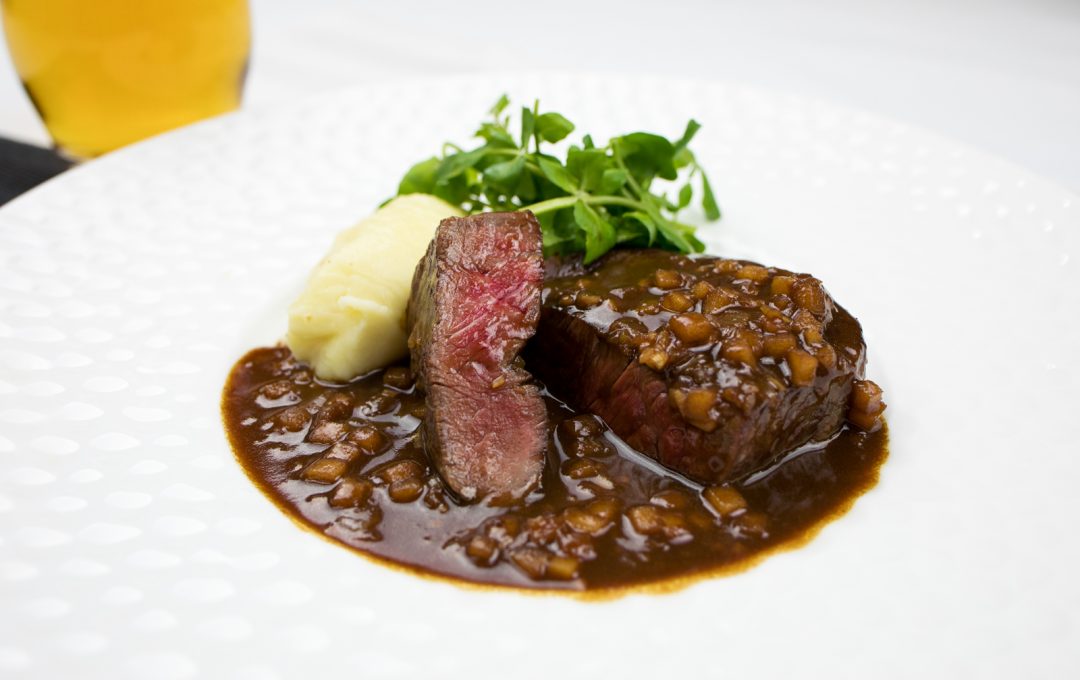 Beef rump meat steak onion flavor(Gold star)
How to make a recipe
STEP.1

Cut the gristle of the rump meat with the tip of a knife and sprinkle with salt and pepper to season it.

STEP.2

Marinated STEP.1 with grated onion. Place the rump meat on a tray, put the grated onion on it, and soak it in the refrigerator for at least 1 hour.
Turn it over on halfway through and marinade it in the refrigerator again.

When the meat gristle are heated, the meat is pulled by gristle and shrinks, it becomes uneven grilling.
When marinated with onions, the meat becomes tender.(Meat is softened by enzymes)
pineapple also contains similar ingredients.

STEP.3

Make the sauce. Saute chopped garlic, ginger and onion in pure olive oil to bring out the sweetness.

STEP.4

Add diced apples, red wine and burn off the alcohol.

STEP.5

Add Demi-glace sauce and mixed it. Add butter to reveal the richness.

STEP.6

Take out the ramp meat of ②, wipe off the grated onion.

STEP.7

Add olive oil on frying pan and heat it, bake it both side of the rump meat on high heat until it becomes savory, take it out and let it rest in wrapped aluminum foil for 3 to 5 minutes.

The reason for wrapping the meat in aluminum foil and letting it rest is for uniform cooking.
Basically bake for 5 minutes and let it rest for 5 minutes.


STEP.8

Finish. Serve the rump meat with mashed potatoes on a plate, sprinkle sauce on meat and add watercress.