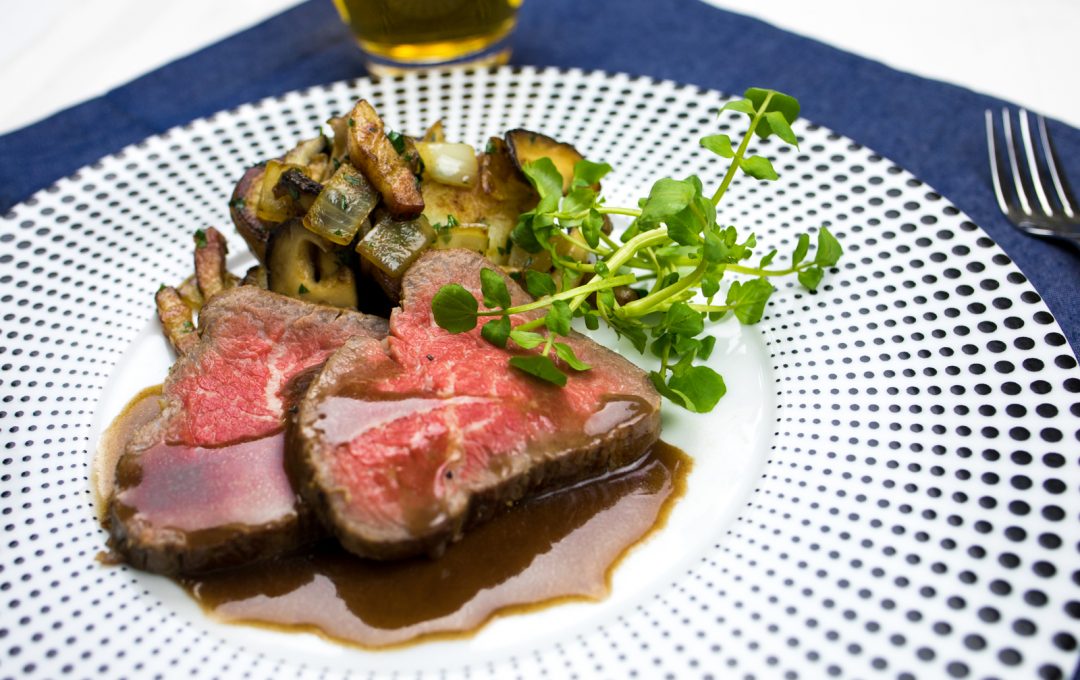 Roast beef fillet(Gold star)
How to make a recipe
STEP.1

Take out the fillet from the refrigerator and bring it back to the room temperature. (more than an hour)

STEP.2

Wrap the fillet in double wrap, put it in a sealed bag, remove the air as much as possible, seal it, and wrap it in a clean towel.

STEP.3

Put the water that covers the bag of STEP.2 in a large pot and bring to a boil.

STEP.4

Add STEP.2 into large pot and make sure the meat is completely soaked in hot water.

STEP.5

Turn off the heat after 3 minutes in a boil, cover it and leave for 90 minutes.

STEP.6

Take it out from the hot water. The broth in the plastic bag will be used for the next gravy sauce.

STEP.7

Wipe off the water from the meat, and season well by sprinkle salt and pepper all over it.

STEP.8

Brown it each side. Add butter and brown it the whole surface on high heat.

STEP.9

Take out the meat from the frying pan,wrap it in aluminum foil and let the meat rest for about 15 minutes.
The frying pan will be used for the gravy sauce, so leave the broth unwashed.

STEP.10

Make a sauce.
・Drain the extra fat that has collects in the frying pan.
・Put the frying pan on heat, add garlic, onion, chopped carrots and butter into.
・Add red wine and burn off the alcohol.
・Add the remaining broth of the plastic bag which wrapped the meat, water and bouillon(1/2 bouillon cube) into the frying pan, boili down them until the liquid volume is reduced to about 1/3, thicken them with a small amount of water-mixed cornstarch (1 cornstarch : 1 water ), and filter them.
・Remove the scum when it comes out.

STEP.11

Serve. Cut the meat that has been rested for 15 minutes. Serve with garnish as you like.

STEP.12

Finally, add the sauce.